Cappa
Member since: 06.15.08
Topics: 0
Replies: 0

view gallery contributions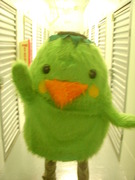 Hi, I'm Cappa from Japan. I am a writer and event producer.
I have traveled in Japan by bicycle when I was 18 years old.
Now I am 45 and dreaming of riding from SF to LA someday...
I would like to find bike friends in this community!
If you would like to know about Japan - eg.planning to travel by
bicycle in Japan, -please feel free to contact me.