Halloween - Venice Haunted House

Thread started by
Trog
at 10.18.12 - 1:08 am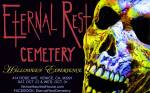 Eternal Rest Cemetery opens it decrepit gates each Halloween season to unleash an onslaught of horrors to make your worst nightmares come true.
The unholy dead drag themselves from their cemetery graves for two nights - Saturday October 27th and Wednesday October 31st. The mayhem begins each evening at approximately 7:00PM and continues till the gates are chained shut at around midnight.
On these two nights only, The Eternal Rest Cemetery proprietors allow you to visit with the recently departed by taking a delightful tour through the depths of The Morgue. Be warned that this is an intense experience. We do not recommend it for children under 14 ... or maybe even anyone, for that matter.
The cemetery grounds are located at 414 Rose Avenue in Venice, California (90291). Come by to find your eternal resting spot, it's a free Halloween experience, but you may pay with your life.