MAN/BIKE vs BLUE LINE

Thread started by
coolassmike
at 02.9.11 - 12:30 am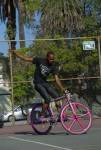 Daryl Muldrow gets hit by the Blue Line MTA and Lives to talk about it!
http://www.ustream.tv/recorded/12558308
Video streaming by Ustream
reply
I see this guy ALL THE TIME riding around as a matter everytime im on my bike I either see him or his bike.

OsnapsonJC
02.10.11 - 8:40 am
reply
LOL, he does get his roll on!

coolassmike
responding to a
comment
by OsnapsonJC
02.11.11 - 10:06 am
reply